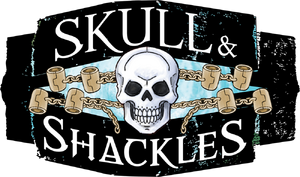 The Skull & Shackles product line contains the second Base Set, 5 Adventure Decks, and Character Add-On Deck released for the Pathfinder Adventure Card Game.
2 seasons of Organized Play use the Skull & Shackles Base Set + Adventure Path:
Season of the Shackles (Season 0)
Season of Tapestry's Tides! (Season 5 [has not yet begun])
Base Set
Only the Base Set is needed to start playing Skull & Shackles with 1-4 players. It ships with 7 very different characters and 10 ~1 hour scenarios, including the first Adventure Deck. The game expands to 1-6 players and 11 characters by adding the Character Add-On Deck.
Base Set contents are described in their own article.
Adventure Path
The pirate isles of the Shackles have long been a refuge for independent freebooters. Press-ganged strangers sail the high seas, preying on shipping and contending with mutinies, rival buccaneers, raging storms, and fearsome sea monsters. But a far-reaching conspiracy points toward a foreign invasion of the Shackles—and the crowning of a new Hurricane King!
Which each adventure deck can technically be played with only the initial cards in the Base Set, you can most easily run a smooth, interconnected campaign by starting with either of the Base Set adventures (B or 1) and advancing down this list.
Reward for completing this Adventure Path: Each character gains a card feat.
This reward only matters if you:
Jump your character into the later chapters of Wrath of the Righteous. [Need link to relevant Paizo blog]
Play homebrew/community scenarios that provide continued high-level adventures for your characters, possibly providing further advancement opportunities.
Organized Play has its own separate schedule for granting rewards - this one doesn't apply there.
Characters
Community content is available under
CC-BY-SA
unless otherwise noted.