Welcome to Pathfinder Adventure Card Game Wiki: the PACG community resource anyone can edit.
What is the Pathfinder Adventure Card Game?
Pathfinder Adventure Card Game (PACG) is a cooperative card game. 1 to 6 players explore and overcome challenges, improve their characters, and acquire new cards for their character deck.
All you need to start playing at home is a Base Set. Or you can join an Adventure Card Guild event with a single Class Deck. Either way, your character will take part in an Adventure Path - an epic story spanning many unique play sessions and multiple power tiers.
News
While PACG will remain compatible with all previous sets, there is still an enormous streamlining on the way, affecting card art, phrasing, and future card design. The game is avoiding becoming entirely keyword driven, but in many cases will massively save space with new terminology - say, "reload" instead of "put on top of your deck".
The new Universal Base Set will introduce systems to control scenario difficulty. This type of system has been missing from the official card game (though present in the Obsidian app). Perhaps even more critically, it will also introduce a system to change the length of a scenario by adding small and large versions of every location (say, with 7 or 13 cards in the location deck instead of the usual 10). Most players should first consider their time constraints, then dial in on the difficulty that's right for their table. Difficulty can be controlled by altering the size of the hourglass (previously called the blessings deck), accepting severe challenges ("wildcards"), and/or treating the adventure number as 1 higher or lower (either to just change the power of Veteran cards, or even to add Banes you wouldn't normally see yet). This framework should allow the community to help new players better, brag about our achievements, and balance custom scenarios more precisely.
Details about the upcoming Universal Base Set are forthcoming after its first public playtest at Paizocon. The design team is incorporating 5 years of experience into a back-compatible soft reboot, introducing new challenges and providing players with levers to manage their play experience (partially in response to the huge difference in gameplay experience between solo and 6 character games).
Community-Contributed
Official Resources
Blog - Paizo
PACG is published by Paizo and set in their Pathfinder Campaign Setting. The game is developed by Mike Selinker and his fellow developers at Lone Shark Games. Obsidian Entertainment created a licensed digital version of the Rise of the Runelords AP.
Paizo Community Use Notice
This wiki uses trademarks and/or copyrights owned by Paizo Inc., which are used under Paizo's Community Use Policy. We are expressly prohibited from charging you to use or access this content. This wiki is not published, endorsed, or specifically approved by Paizo Inc. For more information about Paizo's Community Use Policy, please visit paizo.com/communityuse. For more information about Paizo Inc. and Paizo products, please visit paizo.com.
Character of the Month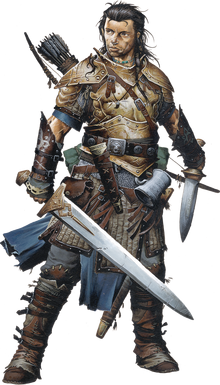 Valeros, the iconic Fighter with a heart of gold. He unleashes extremely reliable melee attacks and can easily assist in any combat at his location. His possible roles are Guardian, Weapon Master, Corsair, Tactician, Daredevil, and Liberator. Valeros is available in Rise of the Runelords, Skull & Shackles, and the Fighter Class Deck.
Card of the Day
Advanced Topics