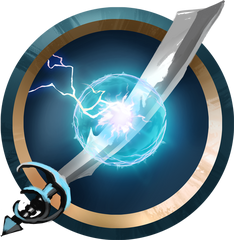 The Magus Class Deck gives your magus a toolkit for Organized Play, or just plenty of flavorful boons to discover in your home game. It also introduces 3 full magus characters, including a new take on Seltyiel, the magus iconic, who was originally introduced to PACG in the Skull & Shackles Base Set.
Back of the Box
Magic or Melee? No need to choose! The Pathfinder Adventure Card Game Magus Class Deck features three new characters who make the most of both spells and swords. This 109-card accessory for the Pathfinder Adventure Card Game gives your game the cads you need to take on all comers. Take your magus from novice to master in any Pathfinder Adventure Card Game Base Set or in the Pathfinder Society Adventure Card Guild organized play campaign!
Magi
The general characteristics and playstyle you can expect of any magus (including the 3 in this deck):
Use spells and weapons heavily.
...
[In this set] Make common and unique use of the card Magus Arcana.
Characters
The bolded ability names and their immediately following italicized text are Community-created and even more unofficial than usual for this wiki. More generally, all playstyle listings here are reductive and incomplete by necessity. Look at them for inspiration, then build and play your character as you see fit: [need show/hide button]
Card List
Count format: (cards/card names)
Total Boons: (99/93) - does not include the cohort.
Total Cards: (109/103) - includes 9/9 for [character+role+token] cards x 3 characters; not including the card that explains how to use this deck in Organized Play/add to your home Base Set.
Community content is available under
CC-BY-SA
unless otherwise noted.