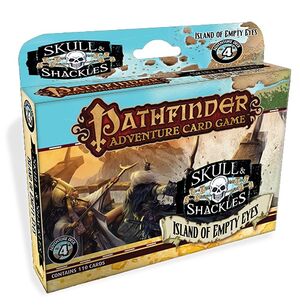 Island of Empty Eyes is the fourth adventure in the Skull & Shackles Adventure Path.
Victory in the Free Captains' Regatta has certainly impressed the Pirate Council, so much so that they've granted you an isle to the northern reaches of the Shackles, an untamed land known as the Island of Empty Eyes. The island is far from deserted, however, and its named suggests an ancient secret. Clearing the island of its brutal residents and transforming it into a pirate haven should promise to be a daunting task, one made all the more challenging when foes from the past return with jealous agendas.
Scenarios
Reward
Each character gains a card feat. Gain a Class 4 ship feat.
Card List
Legend

| | | | | |
| --- | --- | --- | --- | --- |
| Basic | Elite | (No power-level trait) | Veteran | Loot |
| weakest | | | scales | strongest |
Boons (42/33)
Banes and Other (68/41)
Total card count: (110/XX)
Community content is available under
CC-BY-SA
unless otherwise noted.